ECF/AB
Early Career Framework and Appropriate Body
Early Career Framework
Did you know?
There are 3 options open to you for your Early Career Teacher programme.
That you cannot continue with the same programme you have used previously.
That you must register which route you choose on the DfE ECT portal and this directly impacts on the levels of funding you will receive.
The ECT's mentor must be different to your Induction tutor.
ECT mentor release time could impact on your timetable.
The Full Induction Programme which will run through your Teaching School Hub is funded by the DfE and means you don't have to map against the ECF core content and submitted for approval to your appropriate body.
Appropriate bodies will have to complete a fidelity check of your ECF programme if you are creating your own but not if you follow the Full Induction Programme.
The DfE are recommending the Full Induction Programme
Why Choose STEP?
You will be supported by one of the main delivery partners for Provider Led ECF
You will be supported by one of the main delivery partners for Provider Led ECF and working with a National ECF provider - Best Practice.
In choosing the provider led route it will allow your school (s) to access funding to support Early Career Teachers (ECTs) as well as their mentors.
You will be provided training based on the latest educational research and designed by internationally recognised experts in this field.
You will have confidence that experienced, local facilitators will adapt materials to reflect our local context.
You will ease your in-school workload so you don't have to devise your own plans or appoint your own facilitators. Let us do it for you.
There is no need to submit your school or Trust ECF programme for scrutiny to your Appropriate Body if you follow the provider led route.
The Hub can also act as your Appropriate Body for your ECTs.
Your ECTs and mentors will join a regional and national network, supporting your staff and wider school development goals. To ensure a smooth and supported start for your ECTs in September – choose the provider led model delivered by STEP through our partnership with Best Practice Networks. STEP will ensure sessions are tailored to the context of Shropshire and Telford and Wrekin, through our own team of highly experienced, locally recognised facilitators.
To find out more about our programme please click on the link below.
STEP/Best Practice Network Early Career Framework – What Schools Need to Know event
How do you register your ECTs for September 2021?
Step 1: DfE portal registration
You should have received the link to register your ECTs from the DfE, we understand these are being sent out in batches to schools. If you have not received your link, please click here.
You will need to select Full Induction Programme nor Core Induction or DIY route to ensure you receive the correct level of funding. You will also need to register the name of your Induction Lead and Early Career Mentors.
Step 2: Register with your Teaching School Hub Lead Provider for STEP this is Best Practice Network
The link to register can be found at: https://ccms.bpnsystems.net/ecf_application/
Please note for the name prompt please use STEP Shropshire and Telford Education Partnership.
We will then pick your application up through Best Practice Network and contact you with dates and times for both the Early Career Teacher and Early Carer Mentor programmes which will start in the autumn term.
More information can be found on Best Practice Network's web site at www.bestpracticenet.co.uk/early-career-framework
ECF Training Session Dates and Times Information 2021 - 2022
To view the ECT 2021 - 2022 Best Practice's training sessions and network opportunities please click here:
To view the ECM 2021 - 2022 Best Practice's training sessions and network opportunities please click here:
If you are an ECT or ECM and are unsure which group you fall into please contact Rhian de Winter, ECF/AB Administrator rdw@tpstrust.co.uk.
Please note: the above training sessions and opportunities are subject to change at short notice
Appropriate Body
Shropshire & Telford Education Partnership's appropriate body services is led by The Salop Teaching Partnership at The Priory School, Shrewsbury. We have a dedicated AB team which provide services for your ECTs and for schools whose NQTs have already started induction under the 2018 regulations. We also offer a range of services within the Early Career Framework and the new 2021 Early Career Teacher Framework.
Whichever route our schools choose they will receive high quality, personalised and responsive support. All schools will have free access to the online ECT Portal so that you can easily submit assessments online, record mentor meetings and write action plans. A paper format for all records is also available.
Please click here to download the APPOINTMENT OF NEWLY QUALIFIED TEACHER REGISTRATION FORM 2021/2022
Please click here to view the Appropriate Body Service Level Agreement 2021/22
Appropriate Body Options and costings: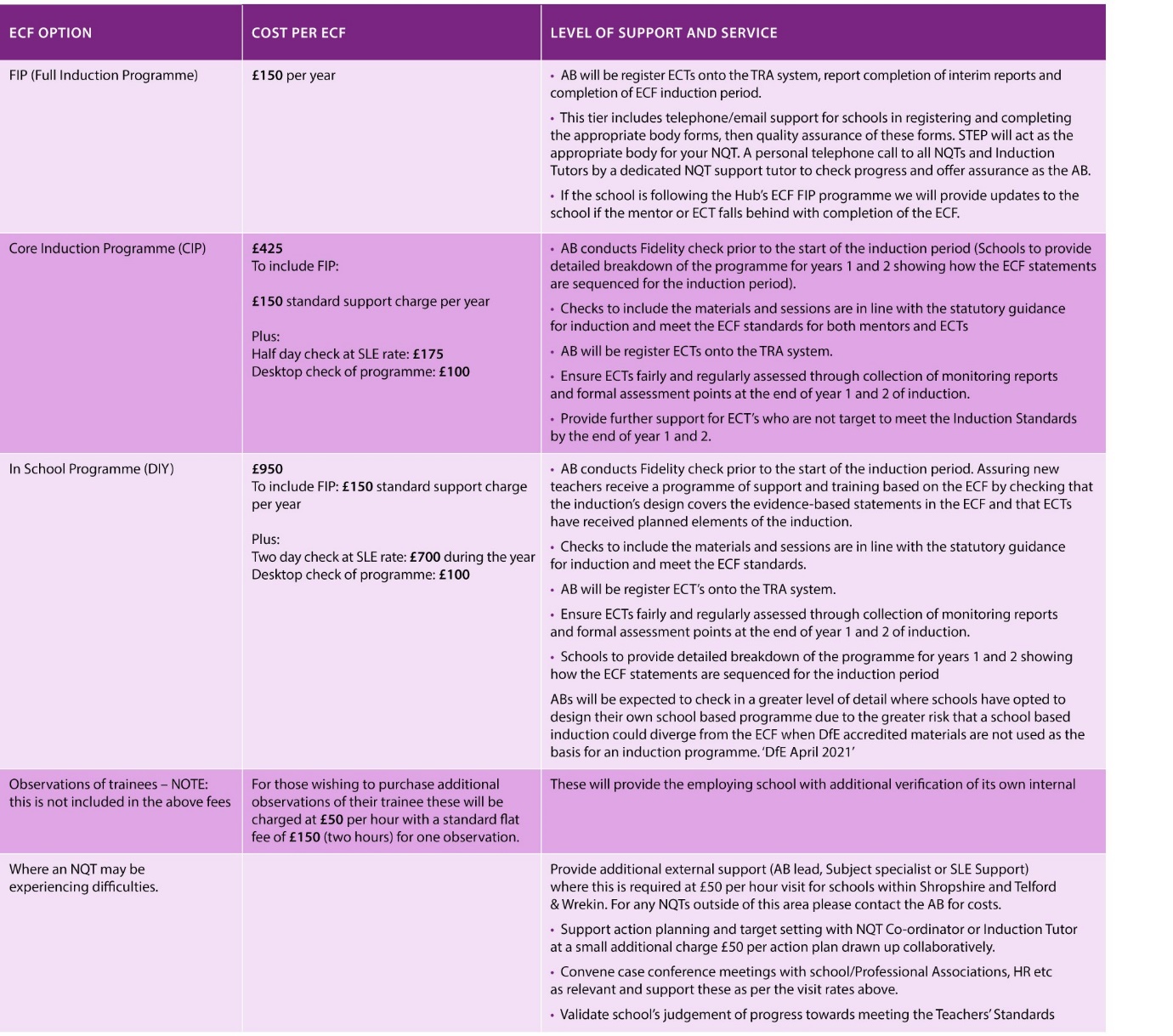 The NQT Route (for those who have already started induction under 2018 regs)
In discharging this role the Appropriate Body will:
Act as the Appropriate Body;
Register each NQT with the TRA
Track, monitor and confirm induction status at the end of the induction period, process relevant paperwork including regular statutory assessment reports and keep the TRA informed as required;
Provide on-line forms for easy use by schools, with free support to help schools to use the NQT portal © (accessed securely via the Teaching School website). Schools can still opt for paper versions if they wish to;
Provide each Headteacher/Principal or Induction Tutor and NQT with an Induction Handbook;
Respond to requests from schools for information, advice and guidance;
Keep schools updated on induction arrangements via e-shots and the STEP Hub and Salop Teaching Partnership websites and provide signposting to DfE core Early Career Framework materials and appropriate CPD;
Assess requests to reduce / increase the length of the induction period including QA and validation of progress against The Teachers' Standards
Tier 1 Support: £150 per NQT.
STEP will act as the appropriate body for your NQT. A dedicated NQT support tutor to check progress and offer assurance as the AB
If your NQT is transferring to STEP as the provider please get in touch for further details regarding fees
Tier 2 Support: £300 per NQT.
With the addition of 1 observation from a subject specialist or SLE.
Two hour visit to school £300 per NQT.
If your NQT is part time please be aware it may take longer than a year for them to complete.
You may be eligible for a discount if you have more than 4 ECTs registered for September 2021 please get in touch for further details.
IMPORTANT UPDATE FOR THOSE ENTERING THEIR SECOND YEAR OF TEACHING FROM SEPTEMBER 2021:
As part of the government's Covid recovery plan additional funding is now available for all second year teachers (those who have completed their NQT year, this year), from September 2021.
This equates to an additional 5% of timetable.
The DfE are still confirming how this will be paid into school budgets. Currently there is no statutory expectation for this to be timetabled due to the timing of the announcement but there will be an expectation to use the funds to support the professional development of the NQT+1 into their second year.
The DfE Core ECF materials can be used to support their development. They should not be registered on an ECF funded programme as they are not new to the profession in September.
If you have any ECF or AB queries please contact:
ECF/AB Administrator: Rhian de Winter
Email: rdw@tpstrust.co.uk
Telephone: 01743 284072
ECF/AB Strategic Lead: Ruth Shaw
Email: rcs@tpstrust.co.uk
Telephone: 01743 284011