ECF/AB
Early Career Framework and Appropriate Body
Early Career Framework
Did you know?
There are 3 options open to you for your Early Career Teacher programme.
That you cannot continue with the same programme you have used previously.
That you must register which route you choose on the DfE ECT portal and this directly impacts on the levels of funding you will receive.
The ECT's mentor must be different to your Induction tutor.
ECT mentor release time could impact on your timetable.
The Full Induction Programme which will run through your Teaching School Hub is funded by the DfE and means you don't have to map against the ECF core content and submit for approval to your appropriate body.
Appropriate bodies will have to complete a fidelity check of your ECF programme if you are creating your own but not if you follow the Full Induction Programme.
The DfE are recommending the Full Induction Programme.
The Early Career Framework is a fully-funded, two-year package of structured training and support for Early Career Teachers. The ECF ensures new teachers have dedicated time set aside to focus on their development and a structured programme to follow.
By signing up with STEP, you are choosing a DfE-funded training provider to deliver a programme of face-to-face and online training. This support will be fully funded so there are no costs for schools. Lead providers will be inspected by Ofsted so schools can be assured that this training will remain high-quality.
State-funded schools can choose to work with one of 6 (DfE) accredited providers and by working with STEP, you will also be working with Best Practice Network. STEP have chosen BPN to work with as their delivery partner because of the quality of delivery and the passion they have for supporting you. It is BPN that deliver the ECF.
By choosing STEP, you will have access to the BPN portal where you will be able to access a range of resources. BPN will also provide you with a calendar of online and face to face CPD sessions and a variety of online resources that will guide you through your two year induction period. You will be assigned a highly experienced local Facilitator who will lead your CPD sessions.
Why Choose STEP?
You will be supported by one of the main delivery partners for Provider Led ECF.
You will be supported by one of the main delivery partners for Provider Led ECF and working with a National ECF provider - Best Practice.
In choosing the provider led route it will allow your school (s) to access funding to support Early Career Teachers (ECTs) as well as their mentors.
You will be provided training based on the latest educational research and designed by internationally recognised experts in this field.
You will have confidence that experienced, local facilitators will adapt materials to reflect our local context.
You will ease your in-school workload so you don't have to devise your own plans or appoint your own facilitators. Let us do it for you.
There is no need to submit your school or Trust ECF programme for scrutiny to your Appropriate Body if you follow the provider led route.
The Hub can also act as your Appropriate Body for your ECTs.
Your ECTs and mentors will join a regional and national network, supporting your staff and wider school development goals. To ensure a smooth and supported start for your ECTs in September – choose the provider led model delivered by STEP through our partnership with Best Practice Networks. STEP will ensure sessions are tailored to the context of Shropshire and Telford and Wrekin, through our own team of highly experienced, locally recognised facilitators.
To find out more about our programme please view the video below below.
STEP/Best Practice Network Early Career Framework – What Schools Need to Know event
How do you register your ECTs for 2022/23?
Step 1 - Ensure your school is registered with an Appropriate Body (please note, if you are not using STEP as your AB, please register with your Local Authority's AB service and then proceed to Steps 2 and 3 as per below).
STEP as AB
The Shropshire & Telford Education Partnership (STEP) is the delivery partner for the training programme that your ECTs can sign up to (see FIP details below*). We also run an appropriate body service, led by The Salop Teaching Partnership at The Priory School, Shrewsbury. Please download and complete our STEP registration form and Appropriate Body Service Level Agreement when choosing STEP to act as your school's AB. Upon completion, please email this back to rdw@tpstrust.co.uk
Step 2 - Register with the DfE for a Full Induction Programme (FIP)
The Early Career Framework delivery provided through the Teaching School Hub (STEP) is led by Priory and we are working in close collaboration with the Local Authorities. Please register your ECTs, the mentor (ECM) for each ECT and the school induction tutor on the DfE portal and select 'Option 1' for Full Induction Programme if that is the ECF route your school is choosing. If you choose Core Induction you would have to devise your own programme and not have access to a lead provider course.
Please register with the DfE here:
https://manage-training-for-early-career-teachers.education.gov.uk/
Step 3 - Register with your Teaching School Hub Lead Provider; for STEP this is Best Practice Network
We have partnered with Best Practice Network for ECF delivery for the Early Career Teachers (ECTs) and Early Career Mentors (ECMs) so you will also have to register with them. Once both registrations are complete Best Practice will be in touch with the Induction Tutor to confirm which training dates and groups your staff will be attending.
Please register with Best Practice here:
https://ccms.bpnsystems.net/applications/index.php?programme_id=34&programme_intake
Please note, for the name prompt, please use 'Shropshire and Telford Education Partnership (STEP)'.
Once your school's application has been processed, your ECTs and ECMs will be contacted by Best Practice with a schedule of training dates and how to access their CCRM portal, found at: https://bestpracticenet.instructure.com/
More information can be found on Best Practice Network's web site at:
www.bestpracticenet.co.uk/early-career-framework
ECF Training Session Dates and Times Information
ECF Training Session Dates and Times Information 2021 - 2022
If you are an ECT or ECM and are unsure which group you fall into please contact Rhian de Winter, ECF/AB Administrator rdw@tpstrust.co.uk.
Please note: the above training sessions and opportunities are subject to change at short notice
Important information for schools registered with STEP / Best Practice Network
Key deadline dates:
For those ECTs with an April 2022 start date, please note the deadline date to register your ECT with Best Practice Network is 4th April. Please register your ECT / ECM via the following link: ECT/ECM registration link.
This cohort will be made up of people who were recruited since the final January deadline onwards and will all be grouped into national, online groups, facilitated by the BPN facilitator team (due to the point in the year that they are joining the programme and the small number of participants expected). They will start at Module 1 at this point.
For ECMs replacing a withdrawn mentor, the registration close date is 31st July 2022.
Meet our STEP facilitators
Rob Collier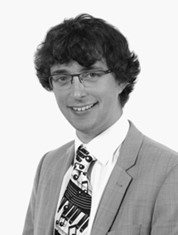 I am a Teacher of Science and Lead Induction Tutor for the Marches School. I have been teaching science at the Marches for 11 years, teaching across KS3 to KS5 and specialising in Biology. I have always had a passion for science and supporting science careers through things such as the school Medical Society I run.
I have been involved in mentoring for the last 8 years, firstly as a subject mentor and then as the Lead Mentor for the school. As lead mentor for the Marches School Hub my role is to oversee and direct subject mentors of both ITT and NQT students across the school. It was therefore a natural progression to become a facilitator for the ECF as I have a real passion to encourage and equip Early Career Teachers to reach their potential. In my role as a coach it is a privilege to support new teachers in their journey and see their progress and creativity being outworked.
Sarah Kynaston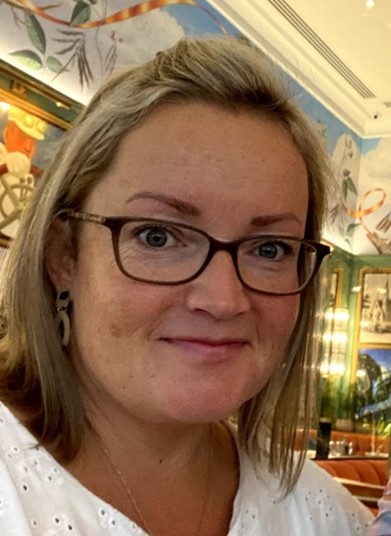 I am Deputy Head at St Peter's CE Primary and Nursery School, Wem.
I love my job and can't imagine being anything other than a teacher! Every day is different and you never know what will happen until it does! Being a part of a child's life is a privilege and even with the daily trials the job brings, I always want to come to school and see the children. Seeing them find their own way in the world is what makes the job so special and being an ECT facilitator means I get to support colleagues in taking the children on that journey. Having taught for many years, the chance to share that experience and at the same time learn from others keeps the fire going!
Claire Standish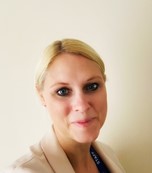 My name is Claire Standish and I am currently working as a Year 5/6 Teacher, PSHE Lead and English Lead at St Lawrence CE Primary in Telford. I have been lucky enough to gain a wealth of teaching experience over the last 19 years, from teaching in village schools in Scotland, across three local authorities in England, and at one of the leading schools in Abu Dhabi, the United Arab Emirates, where I lived and taught. Since qualifying as a teacher, I have always had a particular passion for PSHE where I have led this subject in different four schools, and I am currently a PSHE SLE for Severn Teaching Alliance.
I have always been interested in teacher training and in developing other teachers and have mentored trainee teachers whilst working in a peer mentoring/coaching role for many years. When the opportunity to become an ECT Facilitator arose, I knew that this was something I would not only enjoy doing, but also allows me to contribute a lot to this important role. I am currently facilitating two ECT groups, made up of around 50 ECTs, across Telford and Wrekin.
Lucy Talbot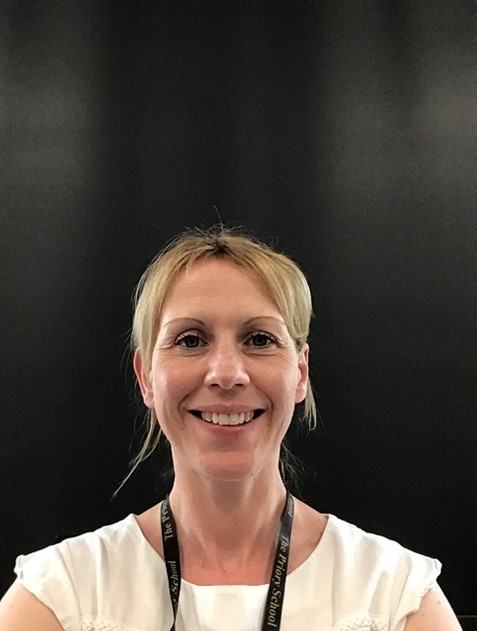 I have been Head of Languages at The Priory School for several years, teaching French to students in Year 7-11. Previously, I taught French and Italian in a comprehensive school in Essex to Years 7-13.
I have a lot of experience in mentoring Associate Teachers and new teachers to the school and have been facilitating the ECF course since September 2021. Prior to this, I also facilitated ITP and OTP courses as part of the Teaching School CPD delivery. I am also an SLE, supporting local schools with their MFL delivery.
I really enjoy facilitating the Early Career Framework training and believe strongly in supporting ECTs at such a crucial time of their career. It is also very valuable to have the opportunity for discussions with colleagues from other schools and settings, sharing knowledge and experience with each other.
Samantha Morris
I am currently Associate Assistant Principal at Ercall Wood Academy with responsibility for the ECF, English and literacy. Teaching English has always been my first passion – I love that literature can be used to help our young people explore the world around them and enable them to develop and express their own opinions.
I wanted to become a facilitator for the ECF for many of the same reasons that I wanted to become a teacher. Being able to give back to the teaching community and provide those who are new to the profession with support and guidance is something that I feel strongly about. Having previously worked as a mentor and induction tutor, as well as experience in delivering CPD, becoming a facilitator for the ECF was the perfect opportunity to combine my experiences. The early years of teaching are crucial if we are to ensure longevity for our teachers and I feel incredibly privileged to be able to play a part in this.
Laura Sollars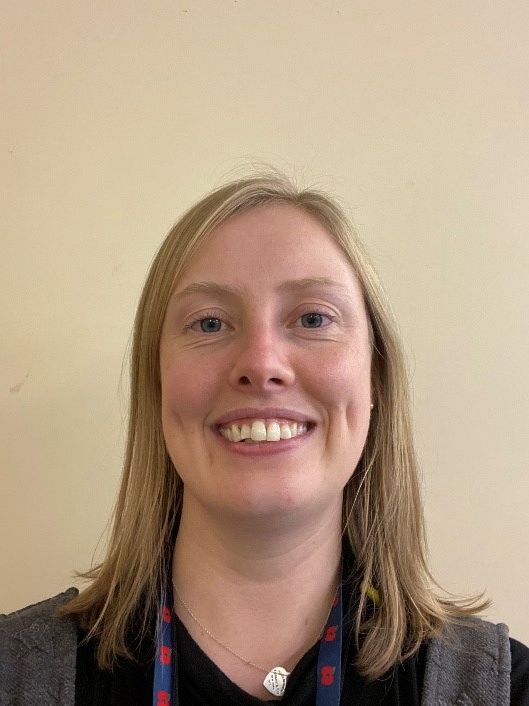 I have been teaching for almost 15 years in secondary schools across the West Midlands and Shropshire. I am a history specialist and graduated from Lancaster University in 2006. I am currently Head of Humanities but I also have roles as an Associate to SLT and as union rep for the NASUWT. I am also currently studying for my NPQSL.
I wanted to be involved in the ECT programme as my MA thesis was based on the experiences of Early Career Teachers and the challenges they faced; I enjoy the professional development aspect and reflecting on my own teaching as part of the training
Fay McKirgan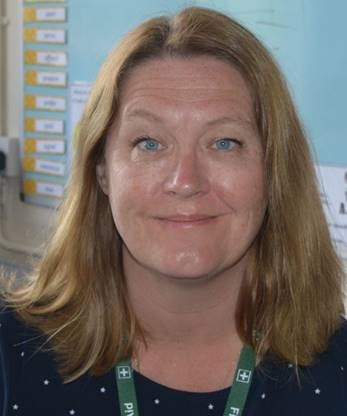 My name is Fay McKirgan and I teach at St. Peter's C.E. Primary and Nursery School. I have been teaching for over 25 years in a range of schools, working in years 2 to 6. I currently teach in Y2 and have just become SENCO, which just goes to show you're never too old to learn something new! I enjoy working with the children and am passionate about all children receiving the best education they can, as a good education has such a profound effect on their life chances. This is why I was excited to be part of the ECT programme as a facilitator. I look forward to meeting you!
FAQs - Early Career Framework and Appropriate Body
What is the difference between Appropriate Body (AB) and Early Career Framework (ECF)?
You must be signed up to an Appropriate Body (AB) so that you are assessed formally against the Teachers Standards. Your AB provide data to the Teachers Regulation Agency (TRA) which records your progress. There is a small fee for your school to pay so that we can complete the statutory assessments during your two year Induction period. It may be that we come and observe you teach or meet with you and your mentor. Running alongside this, the ECF is a fully-funded, structured programme that supports you during your two year induction period via online and face to face Facilitator-led sessions and a wealth of resources.
How do I sign up to STEP for Appropriate Body?
Please download our STEP Registration Form and STEP Service Level Agreement. Once completed, please email these to: rdw@tpstrust.co.uk
How do I sign up to STEP for Early Career Framework?
We have partnered with Best Practice Network as our Teaching School Hub Lead training provider for the ECF. Please register with BPN here:
https://ccms.bpnsystems.net/ecf_application/
Please note, for the name prompt, please use 'Shropshire and Telford Education Partnership (STEP)'. Once your school's application has been processed, your ECTs and ECMs will be contacted by Best Practice with a schedule of training dates and how to access their CCRM portal.
I'm having problems signing into the Priory Portal. What do I do?
No problem. Please contact: rdw@tpstrust.co.uk for further assistance.
I'm having problems signing into the BPN portal. What do I do?
No problem. Contact: cpd@bestpracticenet.co.uk
I haven't been sent the link to the zoom training, what do I do?
No problem. Contact: cpd@bestpracticenet.co.uk
I'd like to give some feedback on the BPN Facilitator-led sessions.
At the end of each session, you will be asked to give your feedback on the session. If you would prefer to email, then please email: cpd@bestpracticenet.co.uk
I want to change my BPN group. How do I do this?
We carefully assign you to a group however, if you would like to change group, please email: rdw@tpstrust.co.uk
I can't attend a Facilitator-led session. What do I do?
We understand that life in school is busy and that sometimes it may not be possible to attend a session. If this is the case, then you will be sent the link to a recording of the session for you to catch up with. Please do be aware that BPN do monitor your attendance and if a number of sessions are missed, your school will be contacted to see if there is anything further they can do to support you in attending.
What happens if I choose not to engage in the ECF?
The DfE have reviewed their provision for ECTs because there was a need for it to be more consistent in its quality, therefore we strongly advise you to engage and take full advantage of the offer. Should you not engage in the programme, you will receive less support than your peers – support that you are entitled to and need; you will have less evidence to add to your AB assessment points; you wont have access to the incredible range of online resources provided by BPN; your attendance will be monitored and concerns will be raised if your attendance falls below a certain percentage; your schools funding may be withdrawn.
Appropriate Body
Appropriate Body Overview:
Every Early Career Teacher needs to be assigned an Appropriate Body by their school. Appropriate Bodies like STEP are organisations who quality assure your statutory teacher induction. Your allocated Appropriate Body will assess you against the Teachers Standards during your two-year Induction period.
Through quality assurance, we assure ourselves that the team around you in school are meeting their responsibilities for monitoring, supporting and assessing you during your teacher induction and that the procedures in place for you in school are fair and appropriate.
As your Appropriate Body, we also provide data to the Teaching Regulation Agency to record your progress.
Your engagement in the Early Career Framework will support you in performing against the Teachers Standards but your participation in the Early Career Framework does not form part of the assessment.
Your school will decide who they want to be your Appropriate Body. As STEP, we would be delighted to support you and be your Appropriate Body for this exciting period of your induction.
At agreed calendared points, you and your Induction Tutor and Mentor will be required to write a summary progress report so that you can evidence your performance against the standards. You will record this on the Priory Portal. You can also add evidence of your successes on the Priory Portal so that we can share in your induction experiences.
What we offer:
Shropshire & Telford Education Partnership's appropriate body services is led by The Salop Teaching Partnership at The Priory School, Shrewsbury. We have a dedicated AB team which provide services for your ECTs and for schools whose NQTs have already started induction under the 2018 regulations. We also offer a range of services within the Early Career Framework and the new 2021 Early Career Teacher Framework.
Whichever route our schools choose they will receive high quality, personalised and responsive support. All schools will have free access to the online ECT Portal so that you can easily submit assessments online, record mentor meetings and write action plans. A paper format for all records is also available.
Please click here to download the APPOINTMENT OF NEWLY QUALIFIED TEACHER REGISTRATION FORM 2022/2023
Please click here to view the Appropriate Body Service Level Agreement 2022/23
Appropriate Body Costings: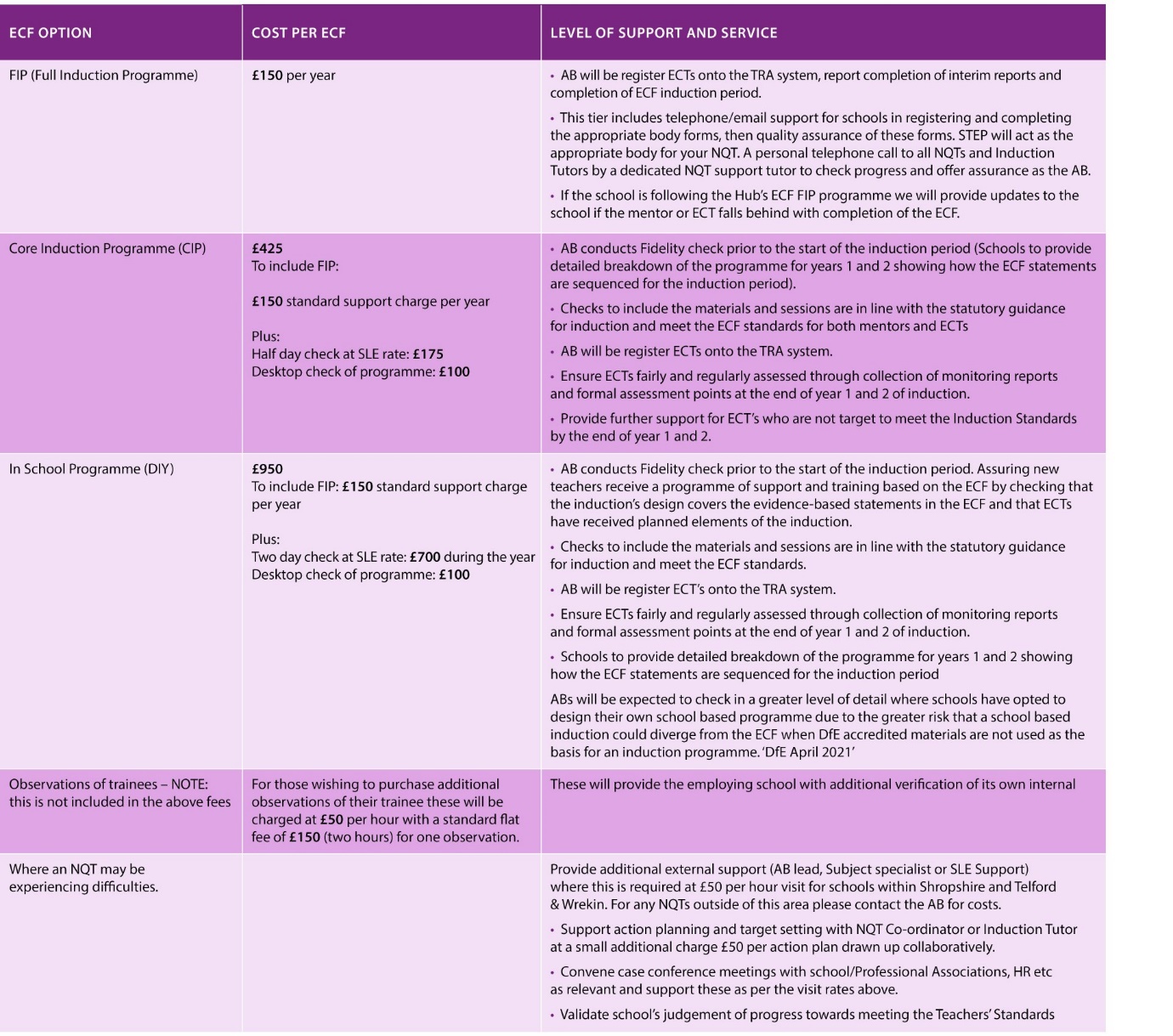 The NQT Route
The NQT Route (for those who have already started induction under 2018 regs)
In discharging this role the Appropriate Body will:
Act as the Appropriate Body;
Register each NQT with the TRA
Track, monitor and confirm induction status at the end of the induction period, process relevant paperwork including regular statutory assessment reports and keep the TRA informed as required;
Provide on-line forms for easy use by schools, with free support to help schools to use the NQT portal © (accessed securely via the Teaching School website). Schools can still opt for paper versions if they wish to;
Provide each Headteacher/Principal or Induction Tutor and NQT with an Induction Handbook;
Respond to requests from schools for information, advice and guidance;
Keep schools updated on induction arrangements via e-shots and the STEP Hub and Salop Teaching Partnership websites and provide signposting to DfE core Early Career Framework materials and appropriate CPD;
Assess requests to reduce / increase the length of the induction period including QA and validation of progress against The Teachers' Standards
Tier 1 Support: £150 per NQT.
STEP will act as the appropriate body for your NQT. A dedicated NQT support tutor to check progress and offer assurance as the AB
If your NQT is transferring to STEP as the provider please get in touch for further details regarding fees
Tier 2 Support: £300 per NQT.
With the addition of 1 observation from a subject specialist or SLE.
Two hour visit to school £300 per NQT.
If your NQT is part time please be aware it may take longer than a year for them to complete.
You may be eligible for a discount if you have more than 4 ECTs registered for September 2021 please get in touch for further details.
IMPORTANT UPDATE FOR THOSE ENTERING THEIR SECOND YEAR OF TEACHING FROM SEPTEMBER 2021:
As part of the government's Covid recovery plan additional funding is now available for all second year teachers (those who have completed their NQT year, this year), from September 2021.
This equates to an additional 5% of timetable.
The DfE are still confirming how this will be paid into school budgets. Currently there is no statutory expectation for this to be timetabled due to the timing of the announcement but there will be an expectation to use the funds to support the professional development of the NQT+1 into their second year.
The DfE Core ECF materials can be used to support their development. They should not be registered on an ECF funded programme as they are not new to the profession in September.
Important information for schools registered with STEP as your AB:
ECT and NQT Professional Progress Reviews and Final Assessment deadlines
The TRA is now very clear on deadlines and will not take individual, late returns. As an Appropriate Body, we must therefore adhere to the following deadlines for end of term Professional Progress Reviews and Final Assessments for all full time ECTs/NQTs no later than:
Year 1
Year 2

Autumn Term 2021 (PPR1)

Friday 10th December 2021

Autumn Term 2022 (PPR4)

Friday 9th December 2022

Spring Term 2022 (PPR2)

Friday 25th March 2022

Spring Term 2023 (PPR5)

Friday 24th March 2023

Summer Term 2022 (Formal assessment Term 3)

Friday 15th July 2022

Summer Term 2023 (Final Assessment Term 6)

Friday 14th July 2023
Schools may submit assessments up to 5 working days in advance of these deadlines.
To submit a Professional Progress Review / Assessment, please log-in to our Priory Portal at:
https://priory.early-career-teacher.co.uk
Find the appropriate tab, e.g. 'Professional Progress Review term 1', then 'Add a new assessment'. You can then follow the prompts on the electronic form, ensuring the Induction Tutor signs and dates this and selects 'Save'. Please note, in order to finalise a PPR / Assessment, it needs to be signed off by the following people:
ECT
Induction Tutor
Principle
Appropriate Body
Please contact your AB Administrator (Rhian de Winter) on: rdw@tpstrust.co.uk if you are experiencing any problems using our Priory portal.
CONTACT:
If you have any ECF or AB queries please contact:
ECF/AB Administrator: Rhian de Winter
Email: rdw@tpstrust.co.uk
Telephone: 01743 284072
ECF/AB Strategic Lead: Ruth Shaw
Email: rshaw@williambrookes.com