West Midlands Computing Hub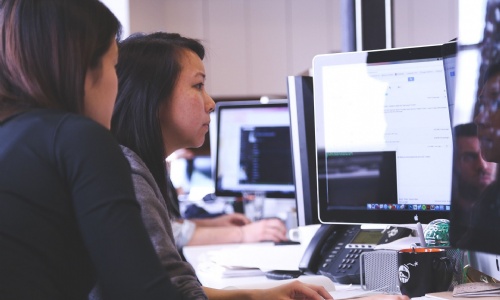 UoW Platinum Jubilee Computing Fast-Track Festival
During this Whitsun half-term / Jubilee week we are able to offer some additional CPD in computing.
We can offer some fast-track CPD to help get the Computing subject knowledge certificate. If staff are struggling to get cover for CPD or just want to start or finish off the Computer Science Accelerator programme WHILE THEY STILL CAN - (the funding is only guaranteed until July) and are based near to Worcester this would be an ideal opportunity.
The "Computer Science Accelerator" is a CPD programme for teachers, funded by DfE, leading to a national certificate in Computing subject knowledge. This CPD will help you develop or refresh your Computing subject knowledge, give you the capacity to teach Computing lessons and therefore significantly increase your employability! There is no charge to attend and bursary funding of £920 is available for state school teachers, payable to your school (or the school that employs you if you are seeking your first post).
The CPD is suitable for current, aspiring or trainee teachers, suitable for all abilities, from little or no experience in teaching computer science to more experienced teachers looking to deepen their knowledge.
Our Platinum Jubilee Computing Fast-Track, delivered by experienced Computing teachers, is being run Face to Face at the University of Worcester over three days.
Trainee teachers with little Computing experience should sign up for ALL the sessions marked below with a *.
Those with more experience and those looking to deepen their knowledge of the GCSE exam could sign up for the session marked with a #.
You need to complete 10 hours of CPD and pass the assessment at the end in order to be awarded the certificate.
Further info and booking links are below – important – you'll need a STEM Learning Account to book on. Create an account at https://teachcomputing.org/ and link this to University of Worcester.
This will be a high-quality, well attended, useful event, and we hope you can attend. Everyone welcome!
Any issues / questions etc do email me at jpalmer@chase.worcs.sch.uk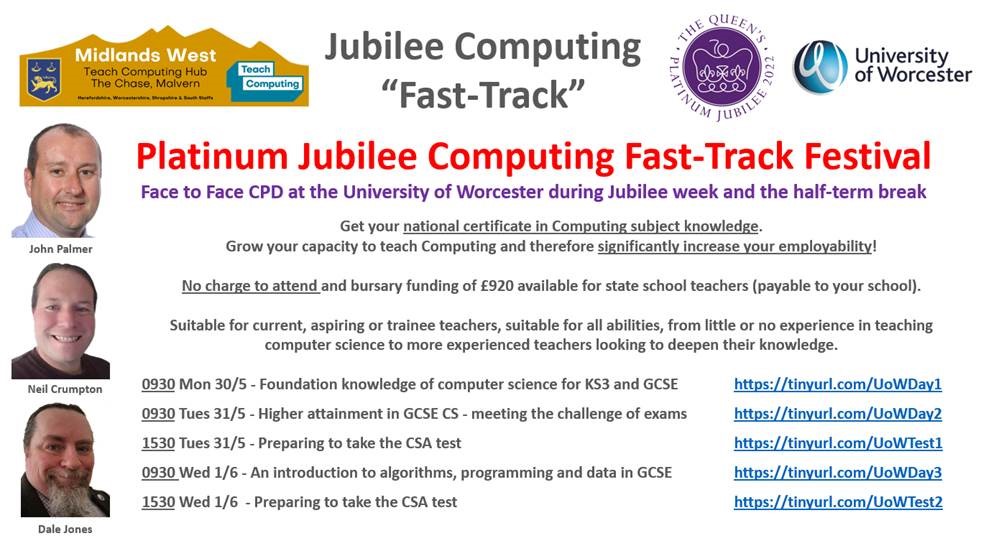 JT Palmer BSc(Hons) PGCE MSc MIET MBCS CITP
Hub Senior Lead
Midlands West Computing Hub
The Chase, Malvern